2 PACK NAIRN INSPECTION PORT - MULTIPLE SIZES & COLOURS
Nairn inspection ports are manufactured to high tolerances using premium materials to provide high strength, durability and watertightness even in the most demanding applications.
In short, total product integrity. All models incorporate 'O' ring seals.
In the 5"(125mm) and 6"(150mm) models the seal is located in the rim and is made from EPDM rubber for superior weathering characteristics.
Rims and coloured lids are made from ABS plastic while polycarbonate plastic is used for clear lids to give both high transparency and impact resistance.
EPDM rubber is used for superior weathering characteristics.
All rims have wide caulking flanges.
All lids are screw in except for the 8"(190mm) which is push in.
The 5"(125mm) and 6"(150mm) ports are available with removable kit bags made from woven nylon and feature corded closures for added security of stored items.
Features:
Sizes Include : 4", 5", 6", 8"

Colours: Black, White, Black Clear or White Clear
Technical Specifications: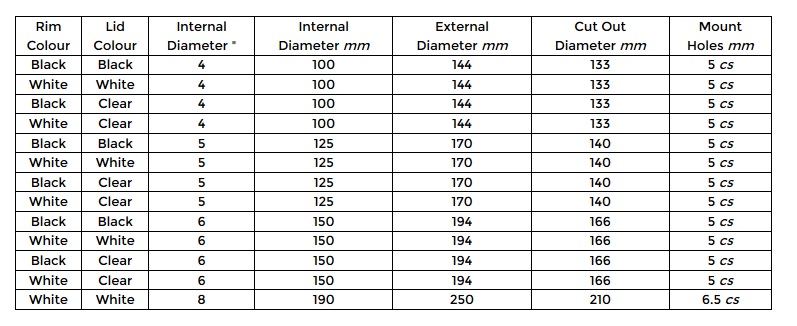 Please Note:
As we have multiple selling platforms there may be times where we will need to order more stock from our suppliers.
A short delay by up to a week may be experienced in dispatching your order. We will do everything we can to stop this from happening, however in some cases this may be out of our control.
If there is any issues with supply, colours, sizing, etc, we will let you know at the earliest convenience. An exchange or refund will be offered.
You may receive an email stating that your order has been dispatched however this may not be the case if we need to order the item in. Your order will be put into our Highest Priority Orders for dispatch as soon as the item arrives.
We ask you to take this notice into consideration before purchasing.
(22882)
Be The First To Review This Product!
Help other Squizzy's Online users shop smarter by writing reviews for products you have purchased.